Limited DON MIGUEL® Product Recall

What You Need to Know
About the recall:
From our family to yours, we want you to know that we take the quality of our products very seriously and apologize to our fans for this situation. Please know this recall only affects a very limited number, 2,027 cases of one production date of frozen DON MIGUEL® Carne Asada Burritos. Only this very small amount of product was affected. IMPORTANT: No other varieties or dates of DON MIGUEL® products are included in this recall.
Don Miguel is issuing the recall to ensure that consumers are made aware of the issue.
States where the affected product was shipped: to convenience store outlets in Georgia, Michigan, Oregon, Washington, California, North Carolina, Missouri, Texas, New York, Arizona and Pennsylvania.
Here's everything you need to know to see if your DON MIGUEL®product is part of the recall:
Step 1:
Verify that your DON MIGUEL®product is one of the affected production dates. Check the code printed on the burrito wrapper as illustrated below. If the code is D23270 15:26, please return it to the retailer it was purchased from for an exchange or call Don Miguel Consumer Engagement at 1-800-523-4635. The Consumer Engagement team is available Monday – Friday, 8 a.m. to 4 p.m. (Central Time).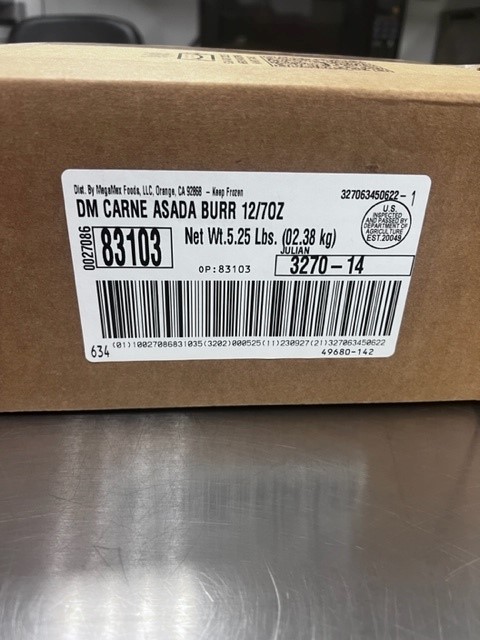 83103 Don Miguel Carne Asada Burritos – 12/7 oz.
Production Date: 09/27/23 Date code: D23270
We apologize to our fans for this inconvenience. Our company is committed to food safety and will continue to invest in our processes to ensure the quality and wholesomeness of our products.